Hand carved, Custom woodworking designs
Exquisitely hand carved wooden cribbage boards, Inukshuk's, driftwood sculptures, and custom crosses
Lorne Mertick hand carves unique, exquisite art pieces from a variety of woods. His cribbage boards are painstakingly carved in fine detail, stained, and then finished with a high quality lacquer. All boards come with solid brass pegs custom-ground to fit each piece, and most boards have a drawer to store the pegs and a deck of cards. Lorne dates and signs his artwork; most have brass art plates. These cribbage boards are truly a treasure of functional art that are a must for any player or collector.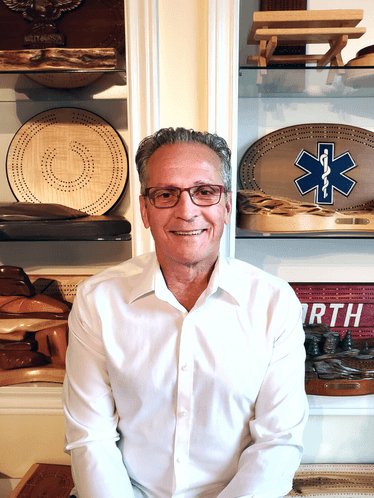 "One of my greatest satisfactions is in knowing that my cribbage boards will last generations and will be handed down for all to enjoy."
I made my first cribbage board for my grandfather when I was seventeen. It was a high school shop project, a pine table with mahogany trim. This has led me to my current interest in producing custom hand carved wooden cribbage boards for over 30 years. I live in Calgary, Alberta. My inventory is extensive and the variety of wood species is amazing. I have slabs and burls of walnut, yew, juniper, maple and many more. I have been fortunate to acquire a large block of ironwood from the desert in Arizona, with most pieces between 180 and 220 years old. This tree has exceptional grains and density making all the pieces quite heavy.
When it comes to making cribbage boards, I use brads to separate the sets of five holes in the board. My peg storage is held in place with magnets and all my pegs are metal. It's the little things that make all the difference in the quality of workmanship.
A large percentage of my work is custom orders. With custom boards the sky is the limit. Your cribbage board can be anything you can imagine, within reason of course!
My designs are great for gifts, service awards or recognition for employees. Imagine your corporate logo hand carved on a beautiful custom cribbage board.
I would like to sincerely thank my past and present supporters, many of whom have become dear friends.


My wife and I have been playing cribbage for 65 years, and we've had many boards. None have been as beautifully crafted as the one from Lorne. His attention to detail and precision seem a lost art. Our board is a custom piece of furniture from the machined brass pegs to the fine finish.

He gets a 5 star from us.
Lorne Mertick's cribbage boards are true works of art. From unique woods used to custom designs he takes very special care to ensure the highest quality. I'm proud to have pieces of my own, as well as gifting them to others. Lorne is a talented artist!
I have known Lorne and Wendy for almost forty years. Lorne is passionate, creative and skilled in his love of carving and cribbage. I own more than six of Lorne's custom boards along with his Lord's Prayer cross and carvings. Each one is unique and finished to perfection. His dedication to his craft is second to none.
The amount of time, energy, and love that Lorne Mertick puts into the craftsmanship of his boards is obvious and the reason why his crib boards are the pride of my collection.

Aloha Nui Loa,
Over the past four years I have ordered 4 boards from Lorne. The quality of his work is outstanding, especially for the price he charged me.

I would recommend to anyone who is looking for that special gift to call Lorne and place an order.
Premium Customized Wood Designs
Have a look at my galleries to review my work.
If you are interested in one of my designs, or commissioning a custom piece, I'd love to hear from you.
Please follow the instructions below to initiate the process.
Please send an email, phone (403) 804-1157, or fill out the contact form below and be sure to include the following information:
I prefer that we have an actual conversation if you are interested in a standard board. We can discuss specific details of what I have in inventory, based on your budget. I will send you a selection of photos, often I have boards in inventory that are not posted on the website. Standard cribbage boards come with metal pegs, rear storage for the pegs and brads separating the sets of five holes. Prices start at $100.
Filling out the contact form is the starting point, however it is essential to the design that we have a verbal conversation. I will try to understand and interpret your version of what you have in mind for your custom board. There are quite a few decisions to be made including wood species, stain color, size, shape and theme. Orders should be placed well enough in advance to ensure prompt delivery. Prices are based on size, details and complexity.
Standard deliveries upon payment. Custom deliveries require a 50% deposit and balance paid prior to delivery. A popular upgrade has been the addition of engraved metal plates to the boards. I recess the engraved metal plates usually onto the back of the board. The text can be simple, or heartfelt. It can commemorate occasions or events. The personalization has been extremely well received. Not only have you ordered a custom cribbage board, but you have taken it to another level by having it personalized.